Get Ready!
I'm thirty! You know, I think it's going to be a great new decade. I started it off right with dinner with a few family members and friends, balloons, a tiara, and cupcakes last weekend!
Would I have it any other way?
No! And the celebration has continued through the week as I have been meeting up with various friends and family for dinners, etc. I'm so grateful for all of the people who have reached out to me with kind thoughts on my birthday. It has really been a great week! Like all things, it must come to an end. Next week, I'll be back to my normal routine and schedule.

Speaking of my usual routine...Now that I'm thirty, it's time to get wordy!
Whoa. That was rough.
What I mean is, I'm ready to start blogging more.
Lately, with a lot on my plate as well as my birthday last week, I've slipped from two posts per week to one per week.
I have mixed feelings on this.
I do STRONGLY believe that all of my posts should be genuine, provide content that I believe is relevant and valuable to you, the reader, and fit my mission for the blog. Maybe not every post has Pinterest-worthy advice, but I do try to write about my own real stories from an honest, genuine place so that maybe you'll take away something that I learn in my trials and errors. I'm not willing to lower my standards on content for the sake of posting frequently.
However...
I miss posting more often! I love sharing my recipes, favorite beauty products, gardening and DIY adventures in addition to my weekly Fitness Friday post! And let's face it; it has been too long since I posted a picture of my cats on the blog.
So as part of my fall rededication to my goals, I'm excited to go back to two posts per week starting next week!
So many ideas for posts...
The finale to my tomato adventure and my favorite fresh salsa recipe
My new eyeshadow looks from my new Urban Decay Naked 2 palette, a birthday gift card purchase. It's the best neutral palette I've EVER used!
My fall favorite looks and beauty products
What I wear to run in the fall
My favorite running fuel/hydration products, and a part scary/part funny story when I discovered I needed them
All I have to say is, get ready! I'm back!
I don't think you're ready for this - My blog's too blog-a-licious for ya!
Not better.
With all of that said, let's start with Fitness Friday and this week in running, shall we?
Saturday - Last Run in My 20's
Because I didn't have plans until that evening, I was able to attend RunKNOX for my very last run of my 20's. It was a 5 mile easy run. It actually was great! It is still warm and very humid here in TN, but thanks to being well-rested and better fueled, I actually had energy while running. I didn't go fast for me (probably 12:30/mi), but it was a good run. It was also great to have already burned some calories before consuming dinner and two cupcakes later (oops!).


Sunday - Boom! It's my birthday!


It was my birthday! I didn't work out. I went to brunch with my husband, sister, and brother-in-law, which was yummy. I also stopped by Sephora to burn through my birthday money (it didn't take long!). Later that evening, we went to Boomsday, one of the largest fireworks displays in the country. It's kind of a Labor Day tradition in Knoxville, and we always enjoy going!



Monday - Recharging with a hike
Since the weekend had been so busy, I took Labor Day off (it's not a designated holiday where I work). My sister and brother-in-law had already headed out, so it was just me and B. As fun as the weekend was, I was feeling a little exhausted from all of the festivities. I wanted a chance to recharge.
A few weeks ago, my husband took me on my first hike.
Prior to that experience, I didn't get the point of hiking. I thought it was just walking. After my first experience, I learned to appreciate the thought of "unplugging", the sense of accomplishment I get from walking up a mountain, and seeing beautiful scenery.
We went down to the Smoky Mountains, not to far from Knoxville. Sadly, we're those people who don't take full advantage of our surroundings. We chose a trail that went to a waterfall called Laurel Falls. I'm not good with directions, but it's close to Gatlinburg, TN.
It was amazing! The hike was all uphill, which was a great workout. It was about 1.3 mi to the falls, and of course 1.3 mi back. It was paved (loosely), but still felt like a hiking trail. Be careful though - there are steep drop-offs as you wind around the mountain. Bears frequent the area, although we didn't see one. Once we got to the falls, we had a great little stop. We waded through the water around the falls (it's not deep), sat on the rocks and relaxed for a few. We saw aquatic salamanders and butterflies. Highly recommend for a short day hike!
Tuesday - Back to RunKNOX
All good things must come to an end, and Tuesday we went back to work. Luckily, I had RunKNOX to look forward to. We did a 4 mi run, but instead of a steady pace, we incorporated 10 intervals of 1 minute running fast/1 minute running very slow in the middle of the workout. I love those! It keeps the run from getting monotonous. I like running fast in short bursts! Done!
Wednesday - So...yeah...
Long weekends toy with my sleep schedule! I had planned to get up early to run before work. I overslept and had just enough time to get ready for work on time. No running. I had plans after work and couldn't run in the evening either.
Total slacker.
Thursday: Making Up with a VERY Early Run
Sigh...one downside of getting old is my odd sleep schedule. While some days I oversleep, I have frequent nights in which I wake up randomly at 4 AM and can't go back to sleep. Or I don't fall back to sleep until 6:30 AM, which is when I'm supposed to wake up. This time, I stayed up, got some things done for the blog and my home, and went running at 6 AM. Usually I run at 6:45.
Surprisingly, I loved it! It was dark, quiet, and so crisp and cool! I got in the zone listening to 90's music and felt great! That evening, I also attended core class with RunKNOX, so it was a double whammy.
Today: Back to Boot Camp
It has been a week and a half since I attended boot camp. I was looong overdue! I'm going to feel this in the morning. We did squats, lunges with our knee tapping the ground (which hurts my hips oddly), planks, sprints in the sand, push-ups with our hands in straps suspended from the ceiling (okay, I couldn't do them), and all kinds of crazy exercises! It was great!
And that's it! Stay tuned for my big return to blogging next week!
How do you stay charged and active through the week?
- Amy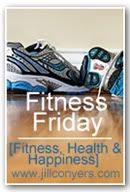 I was not compensated by RunKNOX for this post, nor is it affiliated with this blog. I am simply sharing my honest opinions and experiences. The views expressed in this article are solely my own. Also, I'm not a health or fitness professional of any kind. See my
Terms and Conditions
page.
Want more? Follow the CSRS Blog on Facebook, Twitter, Pinterest, Google+, or Instagram for the latest updates, articles, and more!