Big Stuff Happening!
I'm back in the real world after a crazy couple of weeks. Trying to bring back consistency to my work schedule, workouts, and life. It seems to be going well so far! Over the last two weeks, I've had two new milestones for the blog.
I'm a Sweat Pink Ambassador!
I was recently very excited to find out that I've been named a Sweat Pink Ambassador with
Fit Approach
. It's a great community of bloggers who are real people like me sharing how they achieve their fitness goals and dreams. I've been introduced to the community through several inspiring running blogger friends, and I'm excited to contribute to the group!
To get started, I just received my pink shoelaces! I'm buying new running shoes this weekend and can't wait to put them on!
My First Local Media Mention!
A couple of months ago, I was approached by a writer for Cityview Magazine, a local lifestyle magazine here in Knoxville. She was writing an article about bananas, their health benefits, and how they can help runners in their fitness goals. I shared how bananas keep my runs fueled, as well as a tropical smoothie recipe. To add to the excitement, my RunKNOX coach contributed some great advice to incorporate bananas in a healthy diet to support our fitness goals, and a banana "ice cream" recipe I'm dying to try.
Check it out
here!
With those big news out of the way, let's talk about the week:


Saturday - 5 Miles, and Falling Out of "The Zone"
Picture it. 7:30 AM. Sunny but not too hot. Nowhere near as humid as it had been. Me - energized and feeling like a champ. Ran a little over two miles feeling great! I was faster than my usual "easy" pace (<12 minute mile) and feeling good about the run.
And then this sweet elderly man stopped and asked for directions to the UT football game.
Don't get me wrong. I'm more than happy to help. I'm even more happy to help since he was dressed in UT orange. The problem is that stopping and starting again threw me off my game. I wasn't tired before I stopped, but now I was thinking about being tired. I was so sluggish during the next mile now that I was out of "the zone".
Alas, I kept on fighting the good fight, and finally got back in the zone for my last two miles. My running buddy and I finished the run in exactly an hour. Not our goal, but not bad either.


Sunday - Off Day
Monday - Taking Boot Camp a Little More Seriously
Okay, I do take boot camp seriously and work really hard to keep up. However, I don't take it as seriously as I do running - i.e. fueling before and after, etc. As a result, I wake up on Tuesdays exhausted, sore, and miserable during my run. So I decided to fuel before with a banana and half a pack of sport beans, and drinking some of B's 2:1:1 recovery drink afterwards. I felt great during boot camp! It was still hard, but at least I never got dizzy and weak. I also woke up Tuesday with very little soreness. Win!
Tuesday - The Energy Continues at RunKNOX
I had 3 miles to run during RunKNOX practice Tuesday. I got there super late from work and had to dart into the locker room to change while everyone was already staring, I was a super flustered hot mess! I put the crazy behind me and set out with my friends for an easy 3 miles. Again, I got in the zone and ran my 3 miles faster than my most recent (not so great) 5K! I was very impressed with a friend and fellow RunKNOXer who kept up with me the whole time, despite the fact it wasn't her usual pace.
Maybe I inspired someone without even trying. :)
Wednesday - 20 Minute Run
Yay for a light week in RunKNOX! We were only prescribed 20 minutes! I came home from work, ran near my home, and jammed out to Robin Thicke and other fun artists (no twerking involved) for a quick 20 minutes. Done!
Thursday - Off Day
Friday - 3 mi Run (Tentatively)
As part of my employer's corporate wellness initiative, we now have an outdoor running track. I hope to get out of work at noon and get 3 miles in. Hopefully I can get away from the office to get out there. We'll see how it goes!
That's it! I'm also wrapping up another fun post about connecting with other bloggers and how it has helped tremendously in growing my blog. I've been a little absent in this area lately, and look forward to reconnecting with my blogger friends soon!
Have a great weekend!
-Amy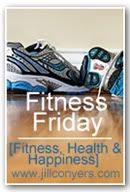 I was not compensated by any of the above organizations for this post, nor are they affiliated with this blog. I am simply sharing my honest opinions and experiences. The views expressed in this article are solely my own. Also, I'm not a health or fitness professional of any kind. See my
Terms and Conditions
page.
Want more? Follow the CSRS Blog on Facebook, Twitter, Pinterest, Google+, or Instagram for the latest updates, articles, and more!