Fitness Friday is Back!
So...if you read
my most recent post
, you've heard that last week wasn't such a great running week. I ran a 5K race on the track, which I let intimidate me and throw my attitude off completely. I was disappointed that I still haven't hit my 30 minute 5K goal. I took some time to reflect on the situation and realized I need to stay in the positive and not put so much pressure on myself each race.
Lately, everything I've been doing has been about speed. I've been really pushing myself in our speed-focused workouts in RunKNOX. Even on the "easy runs" scheduled in to our training, I've tried to push myself and I've worried about my pace. Honestly, all of this speed work and pressure to get my 5K time down has just sucked all of the fun out of running for me lately.
I'm conflicted because I want running to be fun and enjoyable. However, my 5K goal pace is not fun and enjoyable. It's challenging. It's uncomfortable. It's hard to keep going sometimes.
I don't think I'm alone in this internal conflict. I happened to have a conversation with some running friends this week, who shared they also want running to be fun. They shared various ways they keep running enjoyable - focusing only on slower, long distance runs, training less aggressively, or even skipping racing altogether and only running for enjoyment and health benefits.
It was great to hear these perspectives and know I'm not alone in feeling this way. Ultimately, I want to keep training towards becoming a faster runner. I know it's going to involve some training runs and races where I will have to push beyond my current capabilities to make real progress. Those will feel tiring, uncomfortable, and sometimes even miserable (like they'll never end). However, there is (and will always be) room for fun, enjoyable runs - social runs, easy runs in my training. I haven't had enough of those lately!
Enough is enough. I'm going to hate running if I keep this up. This week, I took the pressure off myself and tried to enjoy running again. A couple of runs with RunKNOX, as well as a social run with the Knoxville Track Club gave me the opportunity to do just that!
Here's how the week went:
Saturday - 5 mi run

This was my first attempt at enjoying running and not taking it so seriously. I failed at the first of those objectives, but managed to accomplish the second. The problem - it was SO HUMID that morning I could see the humidity hanging in the air. It made running feel miserable. I did my best to enjoy my music, take it slow and not worry about pace, and enjoy the scenery. The temperature and humidity made that tough, but I did enjoy certain parts - especially running in the shade on 3rd Creek greenway.



The one interesting thing about the humidity is how it created a "dreamy" effect as the sunlight came through the trees.
Sunday - Off
Monday - Boot Camp
I really enjoy my new boot camp class right after work. This week we did everything from squats to lunges to mountain climbers to sprints, etc. The toughest exercise for me was side planks. I think planks are hard in general, but side planks are even tougher! I was the only person who couldn't hold the plank as long as instructed. I'll get there. :)
Tuesday - 4 mi Run with RunKNOX
FINALLY! I enjoyed running for the first time in forever! The weather was cooler, several friends close to my pace showed up, and we ran an easy 4 miles. I made a point to run at a very easy pace, listened to a great playlist on Songza (I knew it would be a good night when "Funky Cold Medina" was the first song!), and just chilled out. I only looked at my watch for distance purposes (we turned around after 2 miles). Afterwards, I found out that my pace was indeed slower than usual for me (12:30 min/mi), but that's okay. I consider the fact that I got back out there and enjoyed it a win!
Wednesday - Directionally Challenged...
As we like to do as often as possible, B and I planned to attend a social run hosted by the Knoxville Track Club. This time, we were to meet at 6 PM and were given an address where to meet. I arrived on time, but wasn't familiar with that specific area of downtown (I've never lived or worked downtown). My GPS got confused and took me to the wrong address. By the time I arrived at the correct address, the group had already left.
I was mad at myself for being such an idiot (
really, I've lived in Knoxville 8 years
), but I turned the evening around. The route we were to run had been posted online, so I followed the directions and ran a little over 3 miles. This was a little out of my comfort zone, as I never run by myself for safety reasons. However, the route took me through very populated areas, and it was still light out. I texted B and sent a Facebook message to the group so that they would know where I was and what I was doing.
I finished my run not long after the group finished theirs, and was still able to meet up with them for dinner. All's well that ends well!
Tomorrow..
The last couple of days, I've taken a quick break from running. I'm running another 5K tomorrow, however! I don't know if I'll hit my 30 minute goal time. I hope I do, and it is the goal I'm shooting for. However, my expectation of myself is to try my best and maintain a positive attitude!
Do you find it difficult to balance the enjoyment of running as you push towards your goals? How do you manage it?
-Amy
See what others around the web are doing with these great fitness communities: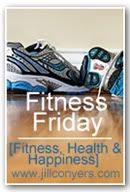 I was not compensated by RunKNOX, or the Knoxville Track Club for this post, nor is any organization affiliated with this blog. I am simply sharing my honest opinions and experiences. The views expressed in this article are solely my own. Also, I'm not a health or fitness professional of any kind. See my
Terms and Conditions
page.
Want more? Follow the CSRS Blog on Facebook, Twitter, Pinterest, Google+, or Instagram for the latest updates, articles, and more!