It's my favorite day!
After a few crazy busy weeks, this week has been pretty fun! My work schedule has been busy but manageable, and I'm back on track working out. It just so happens that I'm REALLY close (just a few weeks) to turning 30, so I'm focusing on that 30 minute 5K goal! I plan to run several 5Ks in August, including one tomorrow, so wish me luck! :)
This week has included a lot of different workouts and activity, so there wasn't really a common theme. My workouts have been more varied this week than usual, which has kept it really fun. With that said, no need for much of an intro, so let's get to it:
Saturday - A Faster 5 mi Run
As usual, I met up with my RunKNOX group Saturday morning. Unlike the last few Saturdays, I was well-rested and well-hydrated, so I felt ready to go! I ran with my usual group of girls in the program close to my pace. Over the past few months, I've had the opportunity to support and befriend a new runner in the program. She ran her first 5K when I ran my first half marathon, and I've seen her continue to progress since. She's catching up to me fast, and I couldn't be happier for her! She reached her first 5 miles a couple of weeks ago, and Saturday we set out for what would be her second 5 mi run.
Since I was feeling energetic, I decided to try to get under a 12 min/mi pace (my usual long distance pace). Since I decided to run faster than usual, I lost some of the people I usually run with. However, I was excited when I saw that my new(er) runner friend was staying with me! We both finished our run in under an hour - and it was only her second time running that distance!
Yeah, we were pretty much rock stars Saturday. :)
Sunday - Rest Day
Monday - Boot Camp at a New (Corporate) Gym
As you have probably already seen (or experienced), many companies today are investing in corporate wellness. To me, it just feels like a common sense investment to both employees and employers. Employees are happier and healthier, and save time and money by having a convenient place to work out. This, in turn, leads to better employee retention, more productivity, less sick time, and lower health care costs for the company. Win-win, right?
I was excited to find out a few months ago that my employer, in line with this philosophy, was working on a a corporate fitness center. The center finally opened this week, and I was so excited to check it out! The facility is brand new, fully equipped with cardio (i.e. treadmills, elliptical, etc) and strength equipment and free to employees to use. Additionally, for a very nominal monthly fee (significantly less than my gym membership), we can take classes.
I really enjoyed the gym I used to attend and got a lot of value out of it, but the cost and convenience of the corporate gym is hard to beat! Instead of my usual Body Pump class at the gym, I tried a boot camp class at the corporate gym. It was so easy to walk over from my office, change, and jump right into the class! The class incorporated a mix of strength, cardio, and body weight exercises - planks, mountain climbers, jogging, lunges, squats. We switched quickly between exercises to keep our heart rates up and keep moving. It was great! The class was over by 6 PM - before my Body Pump class even began! Not only did I get a great workout, but I was able to get home at an earlier time, and I'll save money by cancelling my gym membership. Win!
Tuesday - A Custom Track Workout + Talking Smack!
Since I'm getting close to my 30 minute 5K goal deadline, my RunKNOX coach, Darren, was kind enough to write a custom workout for me to do at the track. Also being very kind, two of my friends came and did the workout with me. There were just three of us. At the track. With a plan.
The plan was to do repeats of 400m (a quarter mile) at my 5K goal pace (30 min 5K = 9:40 mi = 2:25 quarter mile), with a 100m slow jog in between. The total workout was about 3 miles. I was a little nervous, since this would be the most I've ran at that pace. Once we started into the workout, however, I was shocked.
This pace wasn't all that hard anymore. It didn't feel like a sprint. It just felt slightly faster than my normal pace.
It was also great to have others doing it with me. We took turns leading and pacing, and we hit most of our quarter miles right at 2:25 (a few even faster!). The last two intervals started feeling difficult, but not unbearably so. Overall, it wasn't nearly as challenging as I expected. Which made me feel confident about my goal. So much so, it inspired a sassy email to my coach:
Not wanting to speak for the others, I included the following disclaimer:
I was kidding, of course, but only partially so. The workout and pace really wasn't as hard as I'd expected. While everyone knew I was kidding, Darren did point out that my sassy words have left me NO excuses not to reach my goal. No security blanket. No sand bagging. Time to get it DONE.
Touche. I'll think twice the next time I start talking sassy.
Wednesday: Stand Up Paddling!
While I don't always get to attend, the Knoxville Track Club coordinates great social runs on Wednesday nights. They are open to anyone in the community. They aren't part of a structured training program - simply show up, run at your own pace, and enjoy dinner or snacks together afterwards. Sometimes there are fun twists, like a few weeks ago when we completed a
clue-based photo scavenger hunt while running
.
This week, the KTC partnered with
Billy Lush Brand
, a new lifestyle and fitness company in Knoxville focused on paddle sports, to provide a stand up paddling (SUP) lesson and experience to complement our usual Wednesday night run. If you aren't familiar with SUP, it's basically a recreational activity that involves kneeling or standing on a board (which looks similar to a surfboard but I understand is much more stable) in the water, and maneuvering through the water using a paddle.
This was a challenge for me, as I learned to swim pretty late in my childhood, and I'm still not very comfortable on the water. Nonetheless, I kept an open mind and tried it after a short 2 mi run. I hope to provide a full recap about the experience next week. In a nutshell, it wasn't as scary as I thought. Kneeling on the board was fairly easy, as was using the paddle. The hardest and scariest part was the transition from kneeling to standing. It took all of my strength and felt like I was going to lose my balance and fall off! Once standing, it wasn't too hard, and it was a lot of fun! I would do it again (and hope to)! More next week - stay tuned!
Thursday: Major Soreness + My Fitness Assessment
One other note about SUP - I didn't feel like I was working out while I was on the board, but I sure felt it the next morning! I realized it as soon as I tried to get out of bed. It hurt to move my core and my shoulders. Additionally, my legs were starting to feel the effects from the track workout Tuesday. I made the executive decision to take a day off from running!
However, I had a fitness assessment scheduled at the new gym. As part of my new fitness class membership, I had the opportunity to be assessed by one of the trainers at the new gym. They took my weight, height, waist and hip measurements. They took my resting heart rate, then had me step up and down for 3 minutes to test active heart rate and compare to my resting heart rate.
I must have either done really well or really poorly because when taking my heart rate after stepping, the trainer said, "
wow
".
Finally, they had me do as many push-ups I could do in one minute, and as many sit-ups I could do in one minute. I had the option of doing full push-ups (on toes) or modified push-ups (on knees), and the option of doing full sit-ups or crunches. I chose the full versions of both. I did 11 push-ups and 18 sit-ups.
Next week, they will review my results with me in a consultation, and provide advice going forward. We'll see how that goes!
Friday: Back to Yoga (Finally)!
Due to the crazy weeks I've had lately, I haven't had time to make my early morning yoga class. Due to the (still) ridiculous soreness I'm experiencing from running and SUP, I decided I needed to get myself up early and go! I'm SO glad I did! The class I do is a light basic yoga class that combines stretching, posing, and some flowing. I felt less sore, less stressed, and ready to start my Friday!
And here we are! I'm off to the first of my 5Ks in August tomorrow!
How have you stayed active this week? Did you try anything new or fun?
-Amy
See what others around the web are doing with these great fitness communities: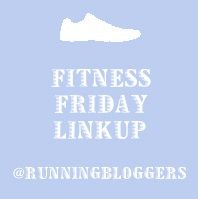 I was not compensated by RunKNOX, the Knoxville Track Club, or Billy Lush Brand for this post, nor is any organization affiliated with this blog. I am simply sharing my honest opinions and experiences. The views expressed in this article are solely my own. Also, I'm not a health or fitness professional of any kind. See my
Terms and Conditions
page.
Want more? Follow the CSRS Blog on Facebook, Twitter, Pinterest, Google+, or Instagram for the latest updates, articles, and more!