Happy Saturday!
I helped a special friend celebrate her 30th birthday last night (
it was a success - party ideas coming at you next week!
), so I had to move Fitness Friday to Saturday.
Just so you know, I wasn't a track athlete in high school. Or a cross country athlete. Or any sport that involves much running.
I did play volleyball 6-8th grade. I enjoyed the sport but I wasn't very good. I went to a very small school and there was opportunity for me to be on the team. I wasn't tall enough to spike or block. Setting might be an obvious choice for someone short like me, but there were better setters than me on the team. I was decent at serving underhand and bumping/passing the ball and tried really hard.
Which was why I was really disappointed I never won the "Most Improved" award on the team - the only award I had a shot at.
I digress.
Back to the story at hand, I wasn't a high school athlete in anything, especially track.
There's a new opportunity for local runners to compete in a track environment called "Thursdays at the Track". It is a series of races on an actual track that are open to everyone regardless of level. Many people in my RunKNOX group were planning to participate, and I was encouraged to participate as well.
This is really intimidating to me. In a 5K race, there's such a massive crowd of people that only B or my close friends pay attention to me when I finish. This whole track environment seems like it would make it painfully obvious how slow I am. Also, when I race 5Ks, I don't consider myself "competing" with anyone else. Since I have no shot of winning my age group, I treat it as a truly individual sport and don't pay attention to others. This track thing feels like an actual
race.
As in
against others
.
I'm actually not a competitive person.
In a recent personal development exercise, I discovered I'm driven by measuring and achieving my individual goals and receiving affirmation/recognition from others. In my book, this achievement and recognition doesn't have to come at the expense of others. More simply said:
I want to get a grade for everything I do. I want those grades to be A's.
Not only that, I want
the teacher to tell me those A's are great. It doesn't matter to me if you are also making A's or B's or whatever. My success isn't dependent on you not succeeding.
My uber-competitive husband is probably shaking his head in disgust.
So no, I wasn't thrilled about the track idea, but I decided to be open-minded and try it out. Our training with RunKNOX was specifically geared to help us prepare for the event Thursday. Here's how the week went!
Friday: 2 mi on my Own
I'm trying to work myself down to my 5K goal pace of 9:41 on my individual runs. It was hot and muggy out when I set out to do 2 miles. I pushed myself and wanted to collapse after my first mile, and was saddened to see that I ran it in exactly 10:00. I wanted to say
forget this mofo
and be done. I took a pause and B encouraged me to keep going, which was annoying, since he was skipping his workout.
Who are you to tell me to keep going? You're sitting on the couch, homes!
I reluctantly listened to him and kept going. My next mile was
terrible
compared to my recent times. My watch was telling me I was going about 10:15 min/mi, but when I finished, I discovered it was actually 11:21. At least I could say I finished.
Some days, that's all I can say.
Saturday: 5 mi with RunKNOX + Sprints
I set out to do an easy 5 mile run. It was humid again. I finished the 5 miles slowly, but it wasn't a pleasant run. Sometimes I get in a rhythm and feel great while running.
This was not one of those days.
I had to push myself the entire way.
When we finished our run, we did sprints in the parking lot. I'm still new to this sprinting thing. I was really trying to focus on my form while running fast. I started getting really out of breath at the end of my sprints and I realized:
I've been focusing on my form, my stride, my posture, my arms, my speed...and in the process forgetting to breathe.
Yes, I realized that I've been holding my breath while sprinting! I'm not a coach, but I'm going to guess that isn't a good idea. Making a mental note of that.
Sunday: Nothing!
Unless you count massive amounts of house cleaning and grocery shopping.
Monday: The Gym
I was gone last week, so it was tough getting back into my Body Pump class. I used less weight than usual on many of the exercises and still sore for a couple of days.
Tuesday: RunKNOX Track Prep
To prepare for Thursday, we went to the track (a different track) to do our workout. It was one of those days where I felt like a total cluster - I left work late, couldn't find a place to park, arrived late to do my warm-up. I finished my warm-up after everyone and they were already starting. I hate that flustered feeling!

Luckily, I caught up with my friends, and chatting with them quickly took my mind off the issue! Our workout was to do repeats of 200m - run 200m at our goal mile pace (I'm shooting for a 9 min mile), then jog the other 200m of the lap (each lap is 400m). Do this 3 times, take a break, do it 3 more times, another break, and a final set of 3.

It was challenging! That pace was a little aggressive for me. It also happened to be youth night at the track, so swarms of children were everywhere (of course not yet acquainted with the concept of staying out of the way so that runners can pass by). Luckily, my friend was cheering me on and we got through the workout together!
Wednesday: A Faster Mile
Because I've felt like my pace isn't where it should be yet, I set out to try a faster mile during the first of my 2 miles on my own. I had to be at work a little early, so I started bright and early at 6 AM. I pushed and pushed and pushed myself to keep going faster. Come on Ke$ha, keep me going! I finished my mile (in a mildly hilly place) in 9:27. Not bad! Then I dragged myself through a slower second mile, haha! Maybe I could pull off this track thing.



Thursday: The TRACK!!
After work, I came home, dressed in my running clothes and shoes, and headed out with B to sign up for Thursday at the Track. To be honest, I felt really nervous on the way. I didn't know what to expect. I didn't like the idea of everyone watching me go around and around. I was also pretty sure I was going to lose.
I'm not being pessimistic and self-deprecating, I'm just realistic about where I fall in the spectrum of runners that I knew would be participating.
When we got there, I was relieved to see that the event was pretty low-key, and I found my fellow RunKNOX friends. B signed up to run both the 800m and the mile, and I chose to only focus on the mile.
On a side note, I personally hate 800m. I don't know why. It's not short enough to sprint and get it over with, and it's not long enough to pace yourself. It's just awkward and miserable to me. About a year ago when I first did them in RunKNOX, I couldn't believe how hard they were. I had to be persuaded and convinced to finish 4 or 5 of them.
Seeing B race first helped me feel comfortable with the process. There were only 3 other men competing with him. However, these 3 men are among the most elite runners in Knoxville (and beyond). B was FLYING through his 800. Don't believe me? Look at him floating off the ground!
He finished in 2:51, which is an incredible time, but was still last in the race. Similarly, he ran his mile in 6:41, a PR for him, and was last in the race. The good news is that everyone supported him and congratulated him. He was happy with the result, despite his standings among others. Seeing him have a great experience made me feel better about my event.
Now, it was time for me to run my mile. There were only 3 other women in the group. One lady is in RunKNOX and I know she's faster than me. The other ladies appeared to be very athletic runners (and they were!). It was intimidating to be at the starting line with them while everyone watched us. Luckily, that anxiety went away when the gun went off.
It's hard to think about others when all you can think about is how tired you are and how hard it is to breathe.
As I expected, I was in last place, but it didn't bother me. I was pushing as fast as I possibly could at first (probably too much). After the first quarter mile, I felt tired. I wanted to slow down, but I didn't feel like I could. In long distance running, you don't feel like every second counts. It's okay to slow down through a water stop or whatever you have to do to feel comfortable running the distance. Seconds don't make a huge difference in the grand scheme of things on a long race.
You don't have that luxury when you're doing a mile.
To make matters worse, someone had lost their race sticker with their number, and it conveniently attached itself to my shoe. I took 2 seconds to try to pull it off with no luck, so I raced about 3/4 of the mile with it on, trying not to fall. It was a loooong 9 minutes and 18 seconds, but I finished and it was a new mile PR! Everyone (even the elite runners) cheered for me and encouraged me!
Makeup smeared and bun falling after the mile!
If you're looking to work on speed or want to just mix things up, try an all levels community track event like I did. It challenges you in different ways to run a mile on the track than 3 miles on a greenway or road. Here are
some ideas to get started
!
Have you tried running or competing on a track? How do you like the track vs. running on a road, greenway, or trail?
-Amy
See what others around the web are doing with two great Fitness Friday communities: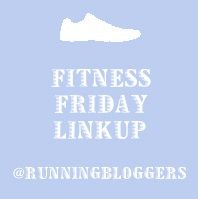 I was not compensated by RunKNOX, the Knoxville Track Club, or Thursday Nights at the Track for this post, nor is any organization affiliated with this blog. I am simply sharing my honest opinions and experiences. The views expressed in this article are solely my own. Also, I'm not a health or fitness professional of any kind. See my Terms and Conditions page.
Want more? Follow the CSRS Blog on
Facebook
,
Twitter
,
Pinterest
,
Google+,
or
CoffeeScarvesandRunningShoes on Instragram for the latest updates, articles, and more!